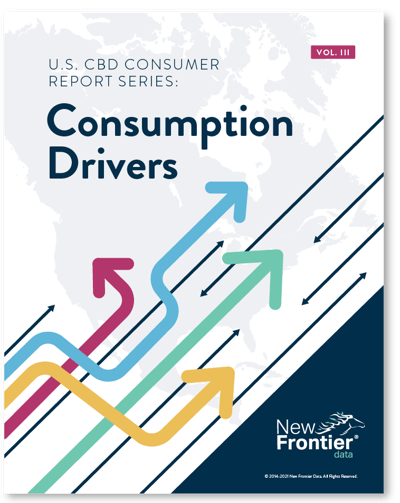 Free Download




Valued at $499
New Frontier Data's third report of the U.S. CBD Consumer Series
, Consumption Drivers (Vol. 3),
provides an in-depth analysis of CBD consumer groups and the factors shaping consumption behaviors to better understand the needs, characteristics, and motivations of the CBD consumer. The report provides a comprehensive assessment of a U.S. Census-adjusted survey of the nation's general population regarding uses, purchasing habits, beliefs, and attitudes about the cannabinoid CBD and products containing it, revealing key insight for brands to refine their messaging and inform product innovation strategies.
Key Findings:
More than one-third (39%) of consumers utilizes CBD primarily for Pain Management.

Just under half of Medical consumers (46%) have discussed CBD with a doctor.
1 in 4 among Pain Management, General Wellness, and Unwinding consumers, respectively, claim to have only tried CBD once or twice.
Want more insights like this?