CONSUMER INSIGHT SERIES
Vol. 1-2019: Cannabis Consumer Retail Engagement
New Frontier Data's Consumer Insight Series: Cannabis Consumer Retail Engagement, explores consumer purchasing habits and what influences them. Here are some ways you can leverage this report:
Identify strengths of different cannabis sources
Find which factors most impact a consumer's purchasing decision
Discover tips for targeting cannabis consumers by age, household income, or product preference
Learn how dispensaries and online platforms can drive consumers from the illicit market
And more!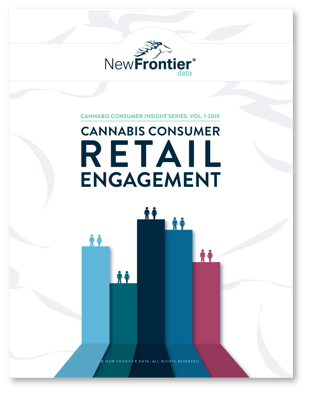 Consumer Insights are critical for organizations that want to build a competitive advantage and grow market share in the ever-changing cannabis industry. The cannabis consumer is not a monolith and competitive brands will build strategies to identify and better understand their target audience.
To understand the nuances of cannabis consumers, New Frontier Data conducted a survey to 3,000+ cannabis consumers, which revealed insights into various aspects of cannabis consumer behavior and engagement. New Frontier Data has identified five forces changing the consumer landscape:
Expanding legal access
Therapeutic efficacy
New product innovation
Convenience and discretion
Social acceptance

Vol. 2-2019: Marijuana Consumer CBD Use
(*only available to equio subscribers)