CONSUMER INSIGHT SERIES
Vol. 2-2019: Cannabis Consumer CBD Use
New Frontier Data's Consumer Insight Series: Cannabis Consumer CBD Use looks at consumers who purchase both THC and CBD products and why brands should look to target this high-spending and highly engaged group. Here are some ways you can leverage this report:
Understand the intersection of THC and CBD users
Identify purchasing habits and price sensitivity for CBD products
Discover tips for targeting and developing marketing messaging to THC/CBD users
Learn which consumer groups are "low-hanging fruit" to capture market share
And more!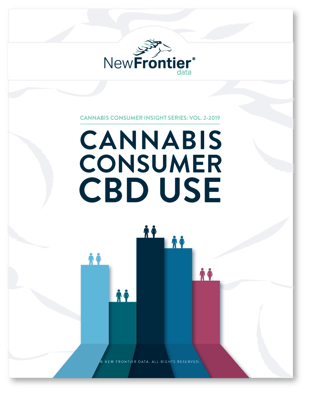 Consumer Insights are critical for organizations that want to build a competitive advantage and grow market share in the ever-changing cannabis industry. The cannabis consumer is not a monolith and competitive brands will build strategies to identify and better understand their target audience.
To understand the nuances of cannabis consumers, New Frontier Data conducted a survey to 3,000+ cannabis consumers, which revealed insights into various aspects of cannabis consumer behavior and engagement. New Frontier Data has identified five forces changing the consumer landscape:
Expanding legal access
Therapeutic efficacy
New product innovation
Convenience and discretion
Social acceptance


(*only available to equio subscribers)